How to: Write a letter to your student
Monday, January 11, 2021
Posted by: Karly Prichard 3 years ago
A highlight for our students is receiving letters from their sponsors!
Your letters let them know you are thinking about them and praying for them. We know from the smiles on their faces that getting a letter means the world to them. We understand the process of writing and delivering a letter to your student may seem confusing. We created a "how-to" tutorial video AND a written step-by-step list to streamline the process for you.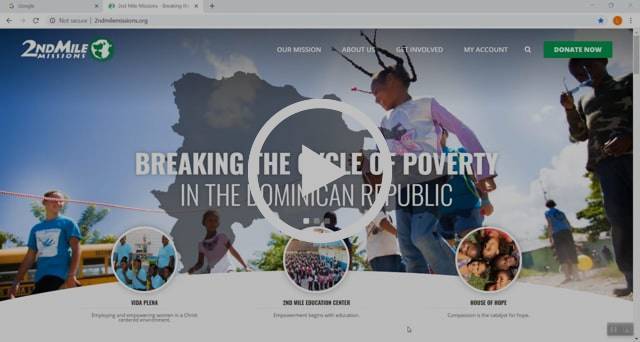 Electronic Instructions:
Log in to your 2nd Mile Mission's account.
Then, go to 'My Sponsorships' by selecting 'My Profile' at the top of the page. Your student and sponsorship information will appear.
Click the student's name, then select the blue 'Start New Message' button to begin writing.
Simply click 'Send Message' when your letter is complete.
Note: Letters sent through our online portal are printed and delivered in the DR by our staff there, making it a quick and easy way to communicate to your student.
Handwritten Instructions:
After writing your letter, simply place it in a standard envelope with the name and grade of your student on the outside.
Then, mail your letter to the following address: 2nd Mile Missions, PO Box 733, Winona Lake, IN 46590
Note: Handwritten letters sent to our US office via mail will be sent with the next group that travels to the DR and delivered by our staff.
Helpful Hints When Writing a Letter to Your Student
Write about topics such as seasons, holiday traditions, family and pets, or hobbies.
Include your favorite Bible verse or something God has been teaching you.
Let them know you are praying for them.
Include photos of yourself and your family and label the names of each person on the back.
Avoid slang and do not offer your phone number, address or email address.
You may include small items such as pencils, stickers, stamps, bookmarks, or photos.
Please do not send cash or gift cards with the letter.
You may write your letter in English and we will translate it for you, or you can write in Spanish if you feel comfortable doing so.
It may seem like a small thing, but your letters DO mean a lot to the students. Thank you for always making such a huge difference in their lives. If, after watching the tutorial, you still have questions, please don't hesitate to reach out!
You May Be Interested In: